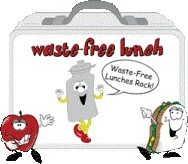 Our school is a Waste Free Lunch School
We encourage waste free lunches
for everyone, every day.
To have a waste free lunch
use reusable plastic or metal containers
use reusable cloth baggies
use reusable metal, plastic or bamboo utensils
use cloth napkins
use metal or plastic bottles for water, milk or juice
eat naked food: bananas, apples, pears and peaches don't need wrapping
Check out more on our Waste Free Lunches website.
Composting
We have 16,000 red wriggler worms that compost 3500 banana peels and apple cores yearly,
from student snacks. Check it out on our Composting School website.